Huddersfield wins University of the Year title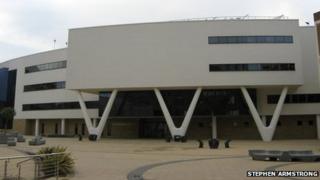 Huddersfield has been named 2013 UK University of the Year at the Times Higher Education Awards.
The title is awarded to an institution that has "demonstrated exceptional performance" during the 2011/12 academic year.
The university also won two Queen's Awards for Enterprise in April.
Professor Bob Cryan, the university's vice-chancellor, who accepted the award said: "It is a tribute to all the staff who have worked so hard."
Sir Patrick Stewart, who was born in nearby Mirfield, is chancellor of the university.
It has 14,379 undergraduate students, 3,539 postgraduates and its 3,000 overseas students from 130 countries.
The winning university beat institutions including Birmingham, East Anglia, Newcastle, Northampton and York St John.