Public inquiry for Leeds trolleybus scheme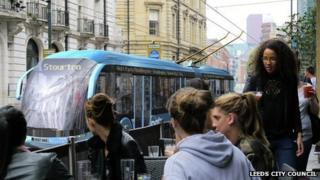 A £250m trolleybus system planned for Leeds is to be subject to a public inquiry, Transport Secretary Patrick McLoughlin has ruled.
A nine-mile (14.5 km) route is proposed from the city centre to park-and-ride sites in the north and south of Leeds.
It would be the first modern trolleybus system in the UK.
Metro, the body responsible for transport for West Yorkshire, said a public inquiry was "inevitable with any transport scheme of this size".
'Rigorous examination'
Plans for the New Generation Transport (NGT) project were submitted for government scrutiny in September.
Councillor Richard Lewis, of Leeds City Council, said he welcomed "a full and rigorous examination" of the plans.
The inquiry is expected to be held in the spring.
Powered by electricity from overhead wires, trolleybuses were popular in the UK during the early decades of the 20th Century.
Leeds was served by trolleybuses from 1911 until 1928 and the last system of its kind in the country, in Bradford, was shelved in 1972.
The Leeds route would link the city centre with park-and-ride facilities at Holt Park and Bodington Hall in the north, via the A660, and Stourton in the south, via the A61.
The Department for Transport would pay £173.5m towards the project, with the remaining £77m provided by Leeds City Council and West Yorkshire Metro over a six-year period.
If the scheme receives final approval, it is hoped work will start in 2016 and be complete by 2018.