Bradford's Broadway centre construction restarts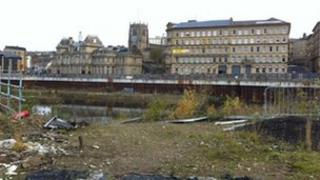 Work on a delayed shopping complex in Bradford city centre has restarted.
Construction began on the £275m complex in 2004, but was halted in February 2008 through a lack of tenants.
Developer Westfield, said it was carrying out "preparation works" and trying to let out the final units to allow building work to start "before the end of year."
Last year, about 30 protesters camped on the building site urging Westfield to restart construction.
The Broadway centre will cover more than 500,000 sq ft (46,500 sq m) and contain 70 shops as well as parking for 1,300 cars.
A £300,000 temporary urban park was opened by Bradford City Council on part of the derelict site in July 2010.
'Deal with scepticism'
Local resident Deborah Sutton said the site looked "horrible".
"It's very unpleasant," she said.
"It does nothing for Bradford whatsoever and it's probably going to be here until I'm dead and buried.
"I've heard so many times, 'it's going to be built, its going to be built. Oh no it's not'. "
Labour council leader David Green, said he understood that delays had caused a loss of confidence in the city that the shopping centre would ever get built.
He said: "I think the only way to deal with the scepticism that's around at the moment is to get the project off the ground and completed and that's what we are working with Westfield to do."