Leeds City Council installs staff foodbank bins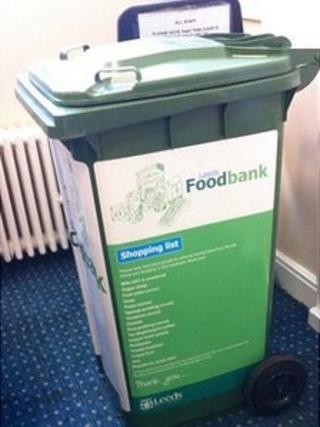 A council has put food collection bins in its buildings to allow staff to donate to a foodbank.
Leeds City Council has placed 11 wheelie bins in its main buildings to collect non-perishable food donations.
The bins are not available to the public but the council said it intends to extend the scheme to schools, libraries and other public buildings.
Councillor John Hardy said the donated food would be collected by Leeds Foodbank at no cost to the council.
A council spokesman said there was no date yet for the scheme to be made public.
Mr Hardy said the council would pay the cost of the 11 bins, which would cost less than 50 pence a week each.
He said the cost was "worth it to help people who haven't got food on the table".
Leeds Foodbank trustee John Casey welcomed the scheme and said food poverty in the city was "bad and getting worse".