Repairs to flood damaged Walsden bridge to start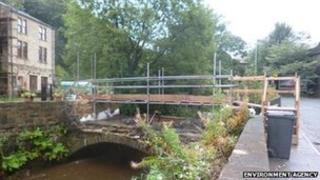 Work to restore an 18th Century bridge that was damaged by flash floods is set to begin.
Parts of the stone bridge were broken after Walsden, near Todmorden, was hit by up to 18in (46cm) of water in July.
Environment Agency contractors will rebuild it as part of a programme of repairs aimed at reducing the risk of flooding across the Calder Valley.
The bridge, near Shade Chapel in Rochdale Road, provides access to properties and carries electric cables.
Todmorden was among several towns in the area affected by severe flooding a year earlier, in June and July 2012.
Environment Agency project manager Mark Tupman, said: "The work at Shade will ensure that the level of flood protection provided by the Todmorden Flood Alleviation Scheme further downstream is maintained."
Reclaimed local stone will be used to reconstruct parts of the bridge.
The works in the area are expected to be largely completed by Christmas.
Calderdale Council and the Environment Agency have also pledged up to £3m to develop a range of schemes to protect properties in the Calder Valley from flooding.
Council leader Tim Swift said: "The ongoing work and awarding of this contract shows the council and Environment Agency's ongoing support for flood prevention works in the Upper Calder Valley."