Bradford's Kings Science Academy: Men quizzed in fraud inquiry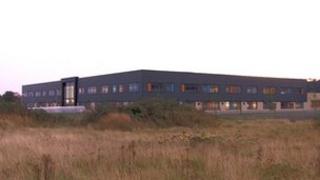 Three men have been interviewed by police in connection with suspected fraud at a free school.
The men were interviewed under caution as part of an investigation relating to Kings Science Academy in Bradford.
They were invited to the Trafalgar House police station in the city on Friday, West Yorkshire Police said.
Officers said the investigation came after enquiries by the West Yorkshire Economic Crime Unit and it would be "thorough and swift".
Investigation report
Kings Science Academy, which is a co-educational school for 11 to 18-year-olds, opened in September 2011 and was one of England's first free schools.
As a free school it is state-funded but not under local authority control.
The Department for Education published an Education Funding Agency investigation report into the financial management at Kings Science Academy in 2013.
Det Supt Lisa Griffin, who is leading the inquiry, said: "I will be considering all the information and potential evidence gleaned so far and over the coming weeks to ensure that the investigation is both thorough and swift."
The force's enquires have included speaking to senior managers at the Department for Education, the Education Funding Agency and Kings Science Academy it said.