Bradford robbery victim 'will never recover'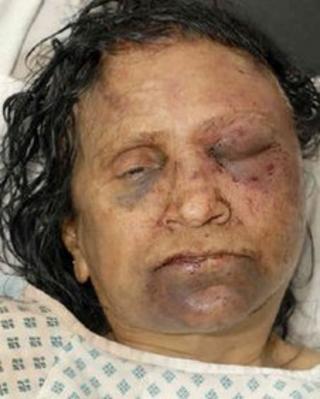 A 76-year-woman who was beaten and left for dead by a robber in her home will "never recover" from her ordeal, her daughter has said.
The unnamed victim was left with a broken nose, dislocated jaw and a fractured wrist and still suffers from severe migraines and tinnitus.
She was attacked in May, but left her home for the first time only two days ago and remains very frightened.
Police in Bradford are still trying to find her attacker.
The family agreed to the police distributing a photograph, in the hope it will help.
Her daughter said: "My poor mother was left for dead.
"My mother was an independent woman who would regularly walk for miles or catch a bus to go somewhere.
"She still suffers from severe migraines and tinnitus and is constantly on medication.
"She will never recover from this.
"People need to realise the trail of devastation that this leaves behind.
"It's not just rocked my mum's life, it's rocked the whole family."
Detectives said the attacker stole cash and jewellery after breaking into the woman's house on Harlow Road in the early hours of 13 May.
Det Ch Insp Tony Nicholson said there had been extensive inquiries.
He appealed for information, adding: "No matter how small it might be, that extra piece of evidence could be enough to bring about a conviction."