John Miller gets life term for killing partner and girl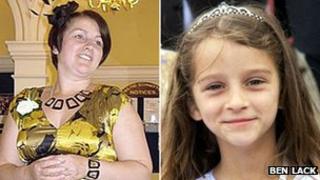 A man who killed his partner and her eight-year-old daughter in an axe and knife attack has been jailed for life.
John Miller, of Garforth, Leeds, killed deputy head teacher Sarah Laycock, 31, and her daughter Abigail Miller at the family home in January 2012.
He admitted manslaughter on the grounds of diminished responsibility but denied murder. Miller told police he carried out the killings after hearing voices.
The judge said 38-year-old Miller must spend at least 15 years in prison.
Leeds Crown Court heard the two bodies were found at the family home in Kirkby Avenue.
The court was told that the couple's four-year-old daughter, Amelia, was in the house as Miller carried out the killings during a psychotic episode.
'Out of control'
The Crown Prosecution Service accepted Miller's admission of manslaughter.
In statement read to the court, Ms Laycock's father, Christopher, said: "I've had no reprieve, no release for good behaviour.
My daughter and granddaughter - brutally and violently murdered - their basic human rights removed - their right to live.
"Everything I've worked for is now gone. Everything I planned for has gone."
Following sentencing, Martin Goldman, the chief crown prosecutor for the Yorkshire and Humberside region, said: "This was a truly appalling and tragic case and our thoughts remain, as they have been throughout, with the victims' family.
"It is difficult to comprehend the pain and trauma these awful crimes have caused them.
"I would like to pay tribute to their bravery today."
Det Supt Lisa Griffin, from West Yorkshire Police, said: "John Miller killed his partner Sarah Laycock and their young daughter Abigail during an appallingly violent episode in the family home during which he inflicted terrible injuries on them.
"The public may ask why it has taken so long for this case to conclude.
"This is entirely due to the mental health of Miller who was detained in long-term psychiatric care after the incident until such time as he was deemed fit to face the criminal justice process.
"The reason why his violence was directed at those closest to him can only be attributed to Miller's psychosis.
"He was delusional and out of control."