Slaithwaite Fire Station burgled on day of strike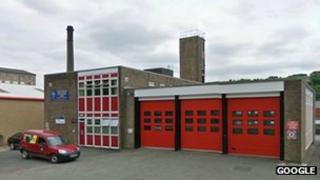 Thieves broke into a fire station and stole rescue equipment valued at £20,000 on the day of a national firefighters' strike.
Slaithwaite Fire Station was targeted between 17:30 GMT and midnight on Friday, West Yorkshire Police said.
Members of the Fire Brigades Union walked out between 18:30 and 23:00 over plans to raise the age of retirement from 55 to 60.
A police spokesman said generators, a saw and cutter were taken.
Anyone offered equipment of this type for sale is asked to contact police.
The station is a retained station and was unmanned at the time.
There was also no picket line outside.
Dave Walton, Assistant Chief Officer for West Yorkshire Fire and Rescue Service, said: "The issue is being investigated by West Yorkshire Police at the moment and we deplore the theft of vital operational equipment."