Todmorden war memorial restoration work begins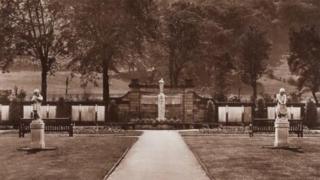 Restoration work is taking place to return a "very significant" war memorial to its former glory.
Todmorden Civic Society raised more than £15,000 to replace two stolen statues in the West Yorkshire town's garden of remembrance and repair the wall and stone tablets.
The work is expected to take another six weeks and the memorial will be rededicated on 12 October next year.
It was built in 1921 to honour the fallen soldiers of World War One.
The memorial originally included three statues but only one, of St George standing on a globe, remains.
Two others - The Lamp of Memory and The Shield of Honour - by sculptor Gilbert Bayes were stolen in the 1990s and never recovered.
Stone carver Nick Roberson recreated them using old photographs, and has also begun repairing the stone tablets carrying the names of fallen soldiers as well as cleaning and restoring other elements of the memorial.
Paul Clarke, who came up with the idea for the restoration, said: "I was taking over the chair of Todmorden Civic Society and I felt it would be a good project for us to do.
"Also I wanted to restore a bit of civic pride.
"We've got a very significant war memorial and I was well aware of the 2014 WW1 centenary coming along."
Councillor Steve Sweeney of Calderdale Council said: "We're delighted that the memorial is being given the restoration it deserves - it's much loved and respected by local residents and is an important part of our heritage.
"People will be able to pay their respects on this year's Remembrance Sunday, as the scaffolding will be temporarily removed from the memorial to make it a focal point for remembrance."