Rescue dog's new life catching criminals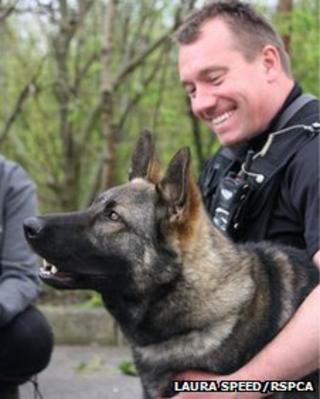 A dog rescued by the RSPCA because of fears he was being beaten by his owners has been given a new life helping to catch criminals.
The German shepherd was found living outside a Bradford house in a small, dark kennel with no food or water.
Because of his mistreatment, the dog, renamed Chance, had behavioural issues and could not be rehomed.
A West Yorkshire Police dog handler spotted him at the kennels and he was taken on and trained as a police dog.
Chance's handler PC Mick Kilburn said: "He immediately demonstrated some of the raw ability needed to become a general purpose police dog and was allocated to me, to replace my current police dog who is due to retire."
'Friend and protector'
He added: "As a police dog handler these dogs become your life - it's not a 9-5 job - you take them home with you, care and look after them 24/7.
"They aren't just a tool that is used by the police, they become your work partner, friend and protector.
"I couldn't be more proud of how well Chance has done."
Mr Kilburn said in his eight years with the dog section, it was the first time a dog had been recruited in such a way.
Chance will now start his police role in earnest after a special "passing out" ceremony on Friday.
An RSPCA spokesperson said: "Everyone at the local RSPCA branch is thrilled that Chance is getting this second shot at life with the West Yorkshire Police in such a useful and heroic role.
"There are so many rescue animals just waiting for a new home and Chance is a great ambassador for rescue dogs everywhere."