Ex-Respect councillors 'unaware' George Galloway leader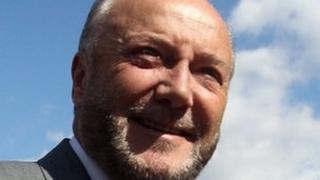 Five Bradford councillors who quit the Respect party claiming a lack of transparency said they were unaware George Galloway was party leader.
The councillors resigned last week claiming party organisation and its decision making process was a "sham".
One councillor, Mohammed Shabbir, said the five had not been told Bradford MP Mr Galloway was also their leader.
A Respect spokesman said he had been listed as leader on the Electoral Commission register since the summer.
Mr Shabbir said he had only just been made aware of Mr Galloway's leadership.
"As far as I am aware there has never been any discussion, he has never described himself as party leader, there has been no public announcement and certainly no members vote," he said.
It is a legal requirement for the name of a party leader to be registered with the Electoral Commission but it is up to individual parties to decide how to make the appointment.
There is no obligation for an announcement to be made either to the public or members.
Former leader Salma Yaqoob resigned and quit the party in 2012, blaming a "breakdown in trust" at senior levels.