Bradford Odeon: Campaign group gets first look inside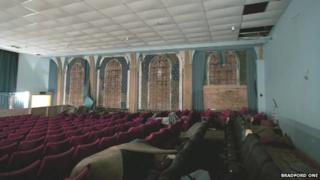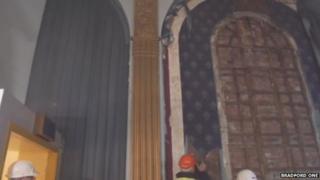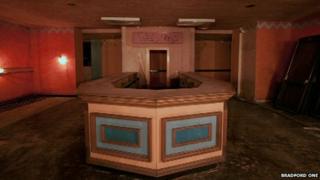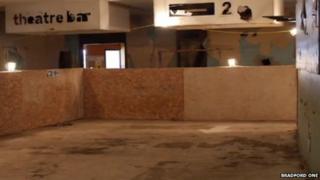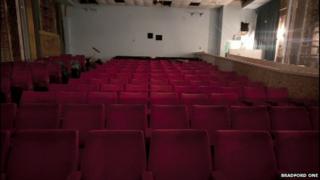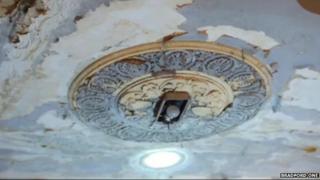 A community group says it is confident a derelict cinema in Bradford can be transformed after being given its first look inside the building.
The Bradford One group wants to turn the former Odeon into a cultural centre with live venue, cafes and shops.
A campaign has been under way to save the 1930s landmark since its closure in 2000. It was earmarked for demolition but is now owned by the city council.
Bradford One said the building was not beyond repair as once thought.
'Completely untouched'
Kate Wellham, from the group, said: "Everything was in disarray because people have been in to take out asbestos and do remedial works so it was a bit trashed, but the building is solid.
"You can tell from going inside that everything that needs to be in one piece is in one piece and actually a couple of rooms were completely untouched.
"All the seats were in place, all the fabric was still on the walls and the curtains were up on the stage. It was really strange, it was like the Mary Celeste.
"I think for a long time people thought it was beyond repair. I am sure there are some parts that are but it was quite obviously intact enough to be redeveloped."
The Odeon was bought in 2003 by regional development agency Yorkshire Forward, which later entered into a development agreement with Langtree Artisan.
That agreement, which would have seen the demolition of the building, was scrapped last September after the Homes and Communities Agency took over the site following the abolition of Yorkshire Forward.
Earlier this year, the building was bought by Bradford Council for £1.
The authority said it would now consider proposals for commercially viable developments which retain all or part of the building.
Bradford One says its £20m plan for the redevelopment would use mixed funding, including grants, community funds and a community share scheme.
It will submit a formal declaration of interest to the council next month.