Bridgewater Place owners take over wind tunnel investigation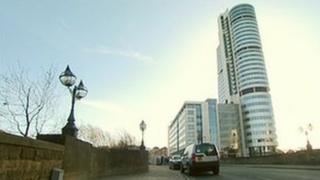 Plans to limit the effect of high winds around Leeds' tallest building that led to a man's death could be submitted before Christmas.
Leeds City Council said Bridgewater Place's owner had agreed to take over the design of a wind mitigation scheme for the building and surrounding area.
The authority said it was putting its own design work on hold as a result.
Dr Edward Slaney was crushed by a lorry as high winds blew around the 32-storey tower in March 2011.
Bridgewater Place, which is 112m (367ft) high, was completed in late 2007, and the council began receiving complaints about strong winds in January 2008.
Speedy solution hope
The Labour-run authority appointed design company Buro Happold to come up with a solution in February and had committed up to £245,000 to the scheme.
The council said until now CPPI Bridgewater Place, the building's owner, had only accepted responsibility for wind mitigation measures on its own land and not for the adjacent road.
It said the company had now agreed to find a permanent solution for the whole area and had also hired Buro Happold to design the scheme.
Councillor Richard Lewis, executive member for development and the economy, said the decision should speed up the process of finding a solution.
"We now look forward to the company presenting its plans to the council before the end of the year," he said.
One potential solution identified for the council would involve the construction of canopies and large screens on the building and 4m-deep (13ft) barriers built above the neighbouring Water Lane.
CPPI Bridgewater Place was not available for comment.