Omar Antar, 2, 'wrongfully retained' in Egypt by father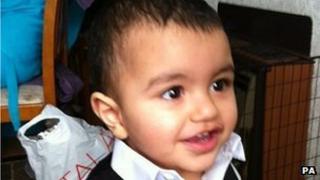 The High Court has ordered a man who has "wrongfully retained" his British son in Egypt for ten months to bring him back to the UK.
Abdelaziz Antar, 39, who lives in Egypt, would not let two-year-old Omar Antar return home to Dewsbury, West Yorkshire with his mother Aisha Qureshi last year, the court heard.
Ms Qureshi has not seen her son since.
Mr Justice Roderic Wood said he hoped publicising the case would "put pressure on" Mr Antar to return Omar.
The court heard Omar had been living with his mother in Dewsbury before they travelled to Egypt for a family wedding last November.
When the trip came to an end in December, Mr Antar refused to let the toddler return.
The judge said the High Court had ordered Mr Antar to return Omar to his mother's care in England and an Egyptian court had ordered the same.
"In yet another sad case, a child is caught up in a dispute between his parents who are living in different countries," Mr Justice Wood said.
"It is considered by the mother's legal team that giving publicity to this case will motivate [Mr Antar's] family and friends to put pressure on him to return Omar.
"I hope for the boy's sake that they are right."