Dewsbury hospital bosses plan £20m upgrade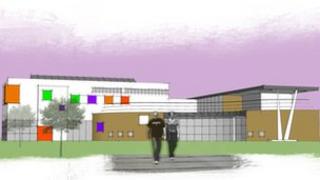 Plans for a £20m upgrade of a West Yorkshire hospital which is facing cuts in its services have been unveiled.
An MRI scanner, paediatric assessment unit and midwife-led birth centre are among the plans for Dewsbury and District Hospital.
They are part of a hospitals shake-up, including cuts to Dewsbury's services, which has been referred to ministers.
A councillor opposed to the changes described the timing of the Dewsbury upgrade announcement as "spin".
A redesigned accident and emergency department and upgraded operating theatres also feature in the plans by the Mid Yorkshire Hospitals NHS Trust.
The reorganisation of the trust's hospitals would see services cut in Dewsbury and Pontefract and seriously ill patients treated at Pinderfields Hospital in Wakefield.
Karen Rowling, a Labour councillor for Dewsbury West and member of the Save Dewsbury Hospital Campaign, said: "The fact is that we are losing 40% of the A&E department, 2,500 women a year are not going to have the choice to have a consultant at their birth if they want to birth in Dewsbury.
"There's 250 beds going from Dewsbury hospital and there's only 70 beds going to be gained at Pinderfields.
"The £20m should be spent saving those services and not giving the hospital a facelift."
Buildings for sale
The Wakefield and Kirklees health scrutiny joint committee referred the proposals to cut the services at Dewsbury to the health secretary earlier this month, saying they were not convinced they were in the "best interests" of residents.
The hospital trust said if the changes went ahead the number of people treated at Dewsbury would rise from 128,000 per year currently to a figure of 134,000 in 2017.
It said there would be more outpatient care and short stay surgery at the hospital, meaning fewer beds would be needed and services would be concentrated in the most modern parts of the hospital.
Older parts of the site which would become "surplus to requirements", including the Bronte Tower and Staincliffe Wing, could be sold, the Mid Yorkshire Hospitals Trust said.
Its chief executive Stephen Eames said: "Dewsbury and District Hospital is central to our plans for the future delivery of healthcare.
"We've been speaking to our staff about the kinds of investments we are looking to make there and how this might affect them, particularly the upgrade work to operating theatres to enable more surgical specialties to carry out work at Dewsbury.
"Clearly we will not be moving ahead with this until we hear back from the Secretary of State but we will continue to plan for change pending the outcome of the referral process."