Ferrybridge jobs protest outside power station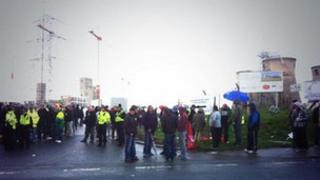 Unemployed construction workers and union activists have protested outside Ferrybridge power station about local workers being "overlooked" for jobs.
More than 100 people protested over job opportunities at a new £300m multi-fuel plant in West Yorkshire.
Chris Weldon, of Unite, said unemployed local workers "have got the skills but they are being overlooked".
Dion Venter, site manager, said: "We are committed to using local labour and subcontractors where possible."
Mr Weldon said: "There are over 300 CVs of unemployed local workers who live within 35 miles of the site."
Unite said the general contactor, Zurich-based Hitachi Zosen Inova (HZI), had contracted work out to some employers who were not taking on local workers.
Mr Weldon said: "Most of the contractors are recruiting locally but there are two who are not sourcing local labour."
He said a delegation of Unite and GMB representatives and protestors had met with power company SSE to explain their concerns.
SSE would buy the electricity generated by the new plant.
Mr Venter, of HZI, said the company had been working with the Unite and GMB unions and all sides had signed an agreement on how contractors would be sourced.
He said the firm complied with national industry agreements and was "disappointed" about the protest.
The firm said about 80% of the current work force was UK-based and it would continue to work with the unions to "maximize local opportunities".
The new Ferrybridge plant by the River Aire in West Yorkshire, is to be completed by 2015.
It would use biomass, waste-derived fuels and waste wood to generate electricity.