'Ten-fold increase' in Leeds litter fines since 3GS takeover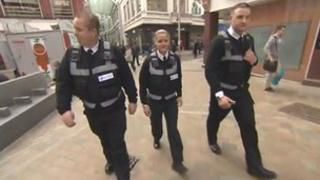 A private security firm brought in by a council to combat litter louts in Leeds has issued 1,313 fines in six months, an almost 10-fold increase.
3GS has given £75 fines for littering since April. In the same period in 2012, 136 fines were issued.
Leeds City Council says the trial has been "extremely successful" and has extended it to January.
But one anti-litter campaigner has questioned whether the scheme tackled the root cause of litter.
3GS receives a percentage of every fine issued by its staff but Leeds City Council, which has an £8m bill for street cleaning, says the details are confidential.
Councillor Mark Dobson, the council's executive member for the environment, said: "The £75 is not about taking money, the bulk goes to 3GS, we want to tackle litter.
"If that means fining people and ending up on the wrong side of a popularity contest we'll take that choice."
Simon Anderson who has picked up litter in Guiseley, near Leeds, for the past three years on his own initiative said he had not noticed a "dent in the amount of litter" locally.
"The stick approach, fining people £75 on the spot, isn't necessarily conducive to them being better citizens," he said.
Patrols take place around the city centre and 10 other areas in the north and west of Leeds including Otley, Adel, Bramhope and Cookridge.