West Yorkshire Police sorry for ticket sanctions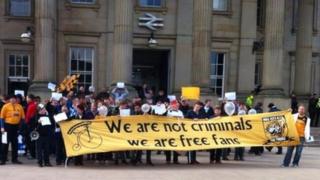 A police force has apologised to fans of two football clubs for "any upset or inconvenience" caused by travel restrictions imposed on them.
West Yorkshire Police limited tickets for Hull City fans for the club's clash with Huddersfield Town in March and made them travel on official coaches.
Supporters of both sides described the sanctions as "draconian".
Chief Constable Mark Gilmore said despite "honest efforts" the move did not have the "desired effect".
The apology follows a review into the force's actions by Northumbria Police, which made a series of recommendations to the West Yorkshire force.
In a letter to supporters, Mr Gilmore said: "On reviewing the circumstances of what had occurred it was clear to me that, despite West Yorkshire Police's honest efforts to do the right thing to keep people safe, the outcome did not have the desired effect on all concerned.
"As chief constable I therefore wish to apologise on behalf of West Yorkshire Police to all supporters and those who rightfully raised concerns on their behalf, for any upset or inconvenience caused."
Restrictions were imposed after the kick-off time for the match at Huddersfield Town's John Smith's stadium was changed to 17:20 GMT to allow Sky to broadcast the game live.
'Labelled us hooligans'
A review of the policing arrangements was ordered by West Yorkshire's Police and Crime Commissioner Mark Burns-Williamson after supporters and MPs complained.
Hull City said the decision had led to the "criminalisation" of fans, prompting a protest before the match by supporters of both sides.
Responding to the review, a club spokesman said: "We continue to fundamentally disagree with the views of both West Yorkshire Police and Northumbria Police that there were legitimate safety concerns surrounding this match.
"As a result of West Yorkshire Police's erroneous view, the fact remains that both Hull City and Huddersfield Town fans suffered serious inconvenience and unwarranted disruption to the enjoyment of what was a crucial fixture in our pursuit of promotion to the Premier League.
"Not to recognise this error would seem to us to be a serious failing of the report and one that does not fundamentally demonstrate that West Yorkshire Police were wrong in characterising Hull City fans as potential hooligans."
Chris Ashton, from Hull City's official supporters club, said the apology was "long overdue".
He said: "We were very upset about it all because they just labelled us all hooligans.
"We all missed a game because of it.
"It is a shame that police services think that different fans cannot mix together."
A Huddersfield Town spokesperson said the club would be "considering the detailed recommendations carefully" before responding but added that it was was "pleased" with the decision to review the policing arrangements.