National Lottery search Bradford for £10m jackpot winner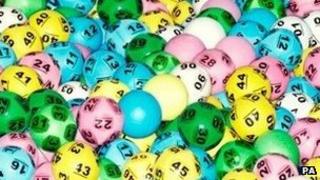 A Lotto player from Bradford has won £10m but has not yet claimed the prize, the National Lottery has revealed.
The winner, who has until 3 April to claim the prize, took the top prize in the draw on Saturday 5 October.
The draw was the first to see a higher ticket price of £2 charged. The winning numbers were 5, 15, 17, 19, 20 and 47.
A spokesman said people should "check pockets, wallets and down the back of the sofa" to see if they have the winning ticket.
He said that "someone out there could literally be sitting on a fortune".
"We have the champagne on ice and our fingers crossed that the lucky winner comes forward to claim their win."
A campaign to trace the winner began in Bradford with a van displaying information about the ticket being shown in Centenary Square before heading out across the city.
If no-one comes forward with the winning ticket before the April deadline or has submitted a written claim stating their ticket has been stolen, lost or destroyed, then the prize money along with all the interest it has earned will go to the National Lottery Good Causes fund.