Yorkshire businesswoman Jan Fletcher ordered to pay £2m costs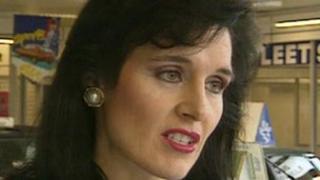 A businesswoman who acted as an advisor to Business Secretary Vince Cable has been ordered to pay £2m after losing a court battle over a contract to build Leeds Arena.
Jan Fletcher has been told by the High Court she must make the interim payment before 14 November.
Leeds City Council was awarded the costs after Ms Fletcher's firm failed in a bid for £43.5m damages.
Her firm Montpellier Estates Ltd alleged the council broke procurement rules.
Ms Fletcher, who has not commented on the decision of the court, has been ordered to pay the cash, prior to total costs being determined by the court.
Diverse businesses
Mr Justice Supperstone had initially ordered the firm to pay £2m in interim costs within 28 days, on 25 April this year, but it was not paid.
The dispute arose in November 2008 after the council cancelled a tendering competition and decided to build the arena, which opened earlier this year in Clay Pit Lane, itself.
Harrogate-based Montpellier Estates, which had proposed a site at Sweet Street, in Holbeck, claimed it had been deceived into entering and remaining in the competition to develop the arena.
But, in February, Mr Justice Supperstone concluded the council had always acted with "honesty and integrity".
Ms Fletcher's business portfolio has included car dealerships, restaurants, property developments and regeneration schemes.
In 1995, Ms Fletcher was voted Yorkshire Woman of the Year and awarded an OBE for Services to Industry in 1997.
She was also named one of Britain's Top 20 Entrepreneurs in 1999, which was followed by her becoming Mr Cable's advisor.
'Written undertaking'
Leeds City Council said their application to the High Court was based on an earlier personal undertaking from Ms Fletcher to cover the costs should the company be unable to do so.
In a statement the council said: "She gave the written undertaking to the council in July 2012, guaranteeing payment in the event of MEL both losing the case and not being able to pay up.
"This was more than three months before her company's claim for damages over not winning the contract to develop the Leeds Arena was heard at the High Court in London.
"When the company did ultimately lose their case, MEL then failed to pay £2 million interim costs awarded to the city council by Mr Justice Supperstone."
The council served a winding up petition on the company in July and announced it was still seeking to recover legal costs from its former chairman Ms Fletcher.
A council spokeswoman said: "We're pleased that Mr Justice Supperstone has granted this order.
"As we have stressed previously we gave MEL and Ms Fletcher every opportunity to meet the interim costs, including agreeing to extend the legal deadline for payment.
"This has left us with no choice but to take this action - we would be failing in our duty to the council tax payers of Leeds if we did not actively pursue these very large costs."