Bradford National Media Museum 'must change to survive'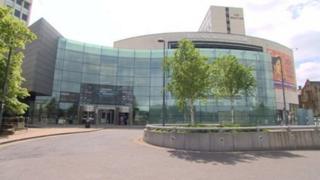 Bradford's National Media Museum must change in order to survive, the man in charge of it has said.
Earlier this year it was feared funding cuts would lead to the attraction, run by the Science Museums Group (SMG), having to shut.
SMG director Ian Blatchford said "everyone accepts the museum can't just carry on as it is".
The media museum said it was running a consultation on how things at the venue could be improved.
'No victory'
Speaking to BBC Radio Leeds, Mr Blatchford said: "The museum needs to remember that actually when it was first opened 30 years ago it had a much stronger science programme so for me it's about the quality of exhibitions but really crucially the quality of education.
He added: "Just keeping the museum open is not really a victory for Bradford. It needs to have a bright future if everyone is going to enjoy it."
The Bradford venue was one of three museums in the north of England that were at risk of closure in the summer because of government cuts.
Mr Blatchford had previously said if a 10% rather than a 5% cut in its budget had been announced it would have meant the media museum would not have been "sustainable".
He said that was because it was the venue out of the three which required the greatest attention.
Mr Blatchford said he now believed the museum had the potential to be one of the most successful in the country.
He said work to improve the museum would take about five years and would include physical changes as well as changes to what it offers.
"I think this could be a lot like the parable of the tortoise and the hare that actually Bradford is going to come up on the inside track and surprise everyone and actually be one of the most successful museums in the country."