Mid Yorkshire hospital failings led to baby's death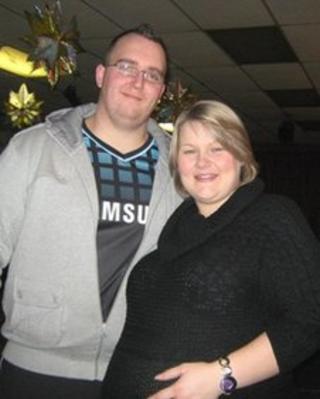 A couple whose son was delivered stillborn after hospital staff failings have described how they "begged" doctors to help save their unborn baby.
Kerry and Craig Watson were left "hysterical" after staff told them baby Cameron had died in the womb after their repeated concerns were ignored.
Their son was stillborn at Pinderfields Hospital in Wakefield despite tests showing an abnormal heartbeat.
Mid Yorkshire Hospitals NHS Trust has admitted liability.
Over the course of a week in December 2012 to January 2013, the couple, from Normanton, West Yorkshire, visited both Pinderfields and Pontefract Hospitals asking staff to check their baby as they had concerns about his lack of movement.
Both midwives and doctors who examined Mrs Watson on a number of occasions failed to spot something was wrong despite the faint heartbeat.
During one visit on 3 January after Mrs Watson had started to feel very unwell, she "begged" the doctor to deliver her baby, fearing something was seriously wrong.
'Unprofessional and rude'
It was arranged for her to go to Pinderfields Hospital the next day to be induced.
When she arrived, staff were not aware of her appointment and it was more than two hours before she was scanned.
It was at that point she was told Cameron's heart had stopped beating because he had been starved of oxygen in the womb.
After she delivered her son, she was told by midwives that the only place available for her to recover was on the labour ward alongside new mothers.
Mrs Watson said: "We begged and pleaded with the doctors to help save him but we were completely ignored."
An investigation by the trust found Cameron would have survived if a doctor had reacted more quickly to the abnormal heartbeat.
It also revealed concerns about the attitude of the consultant who dealt with the couple who was described as "unprofessional and rude".
Mrs Watson added: "It's something we have to live with day in day out knowing that if it wasn't for someone else we would have our own little boy at home with us."
Lawyer Anna Bosley, from Irwin Mitchell, who took legal action against the trust on the couple's behalf, said: "I would say when you look at the entirety of the errors, failings and missed opportunities in this case it's one of the most serious cases I have seen."
In a statement, the trust said there were failings in the care given to Cameron and his family.
Dr Richard Jenkins, the trust's medical director, said: "While sadly we cannot change the outcome for Cameron we believe the steps we have taken will minimise the risk of a similar tragedy occurring in the future."