West Yorkshire PCC in call for greater EDL powers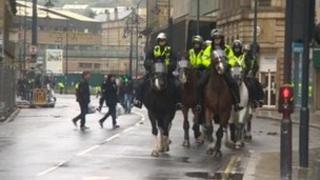 West Yorkshire's Police and Crime Commissioner is calling for forces to have more power to ban demonstrations such as those held by the English Defence League (EDL).
It follows an EDL rally in Bradford on Saturday that cost the force about £1m to police.
Mark Burns-Williamson wants the government to allow chief constables to have the power to ban such demos.
One EDL supporter at the rally told the BBC it was "the only way" to be heard.
Public order arrests
About 1,000 police officers from several forces were involved in policing Saturday's protest between the EDL and We are Bradford.
Police said it involved about 700 EDL supporters and 120 counter protesters.
Eleven people were arrested for public order offences.
At present, static protests such as those held by the EDL cannot be banned.
Mr Burns-Williamson said he would be writing to the government "clearly setting out" that it "needs to review the legal framework".
He said he wanted more powers given to the chief constables, who in consultation with police and crime commissioners and other organisations, could make "informed decisions" about such protests.
He said: "There's a number of police and crime commissioners who now feel it's time for the home secretary to review the legal framework to give chief constables primary powers to look at static protests of this type with the EDL."
A Home Office spokeswoman said police forces could impose conditions on protests and apply for grants to cover the costs of policing "significant and exceptional events".
'Feet on the street'
She said: "Protesters' rights need to be balanced with the rights of others to go about their business without fear of intimidation or serious disruption to the community.
"The Home Office condemns any group which seeks to spread division and hatred between communities.
"Rights to peaceful protest do not extend to violent or threatening behaviour and the police have powers to deal with any such acts."
One EDL supporter who was at the protest on Saturday, and who referred to himself as Colin, told BBC Radio Leeds: "The only way we can protest about militant Islam is to put our feet on the street.
"We don't blow things up, we're non-violent, non-racist, we're just here to say our thing.
"I think [the police] are here to do a job. They're here to assist us and that's fine."