Titanic violin in final exhibition in Dewsbury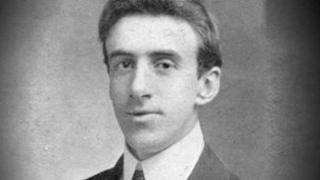 A violin thought to have been played by the band leader on the Titanic as the liner sank has gone on display in Dewsbury for one day only.
Wallace Hartley famously 'played on' as the ship sank in the North Atlantic in 1912 and was among the 1,517 dead.
Mr Hartley, born in Lancashire, lived in Dewsbury and was a member of the Huddersfield Philharmonic Orchestra.
Kirklees Council said the exhibition was a final chance to see the violin before it is auctioned on 19 October.
Auctioneers, Henry Aldridge & Son from Wiltshire, have spent seven years trying to authenticate the instrument and said in May the violin was Hartley's "beyond reasonable doubt".
It was an engagement gift from his fiancee Maria Robinson and can be seen in the exhibition at Dewsbury Town Hall along with a leather luggage case, initialled W. H. H. (Wallace Henry Hartley).
A diary entry by Miss Robinson said it was saved from the water and returned to her.
Andrew Aldridge, a chartered valuation surveyor with Henry Aldridge & Son, said: "Bandleader Hartley was an incredibly brave man whose actions helped to calm passengers during Titanic's last hours.
"The violin has attracted interest from collectors all over the world especially after its recent successful three month exhibition in the United States where in excess of 315,000 enthusiasts viewed it.
"It then moved on to Titanic Belfast for a further three-and-a-half week exhibition period.
"After being approached by Kirklees Council, we felt it only appropriate that the violin come home to Yorkshire and the town where Wallace Hartley chose to live, for one last time."
The free exhibition at Dewsbury Town Hall runs until 18:00 BST.