Dewsbury and Pontefract hospital downgrade referred to Hunt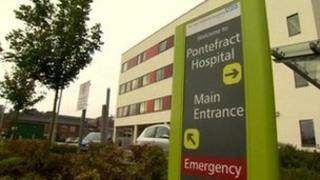 Plans to reduce services at two hospitals have been referred to the Health Secretary, Jeremy Hunt.
The Mid Yorkshire Hospitals NHS Trust want to cut services in Dewsbury and Pontefract and treat seriously ill patients in Wakefield.
Wakefield and Kirklees health scrutiny joint committee said it was not convinced the proposals were in the "best interests" of residents.
The trust said it was "disappointed" by the committee's decision.
Betty Rhodes, chair of Wakefield and Kirklees health scrutiny joint committee, said: "We [the committee] believe there still remains sufficient doubt to provide the necessary assurance and confidence that the proposals are in the best interests of the local population."
'Save more lives'
Under the proposals the accident and emergency department at Dewsbury hospital will be downgraded with no consultant on the site overnight.
Maternity services at the hospital will become midwife-led, so women with complications will have to travel to Wakefield for care.
At Pontefract, the accident and emergency department will deal with minor cases only.
The trust's proposals are supported by the Wakefield and North Kirklees Clinical Commissioning Groups.
In a joint statement the organisations said: "We passionately believe the changes we have proposed are the best way to save more lives and improve results for patients ."
The trust added it was confident the proposed changed would satisfy Jeremy Hunt's tests for service change.