Calderdale flood victims to be exempt from council tax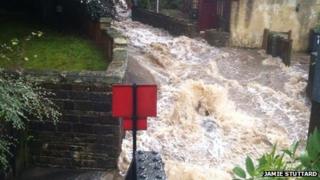 People who have to move out of their homes because of flooding will not have to pay council tax for up to six months under council plans.
Senior councillors in Calderdale, West Yorkshire, said the measure was needed to "help people get back on their feet in difficult circumstances".
But campaigners said money should be spent tackling the cause of the floods.
The area has suffered from severe flash flooding over the last few years, causing millions of pounds of damage.
A series of flash floods hit the Calder Valley in June and July last year, and again a year later.
A report put to Calderdale Council's cabinet said a discretionary council tax exemption should be introduced for future victims of flooding.
It would last up to six months to help residents who "have no option but to move out while repairs are under way".
'It's unfair'
But Barry Greenwood from the Upper Calder Valley Flood Prevention Action Group said he would prefer to see the council spending money to prevent flooding in the first place.
"It sounds pretty good, but does it cure the problem? No," he told BBC Radio Leeds.
"I'm not against the idea. It will help the many people in the Todmorden area where domestic properties were involved in the flooding, but in all the rest of the areas - Mytholmroyd, Hebden Bridge - they were commercial properties.
"They don't come into this scenario at all and I think it's unfair."
A council spokesman said: "The council and other organisations have already invested at least £3m in repairs following the flooding in summer 2012, and we're working with the Environment Agency to carry out minor works to improve flood defences.
"In the longer term, we are already working with other organisations to develop a flood investment plan."
The council will decide whether to go ahead with the council tax exemption plan at a meeting next month.