Leeds and Partners boss Lurene Joseph accused of bullying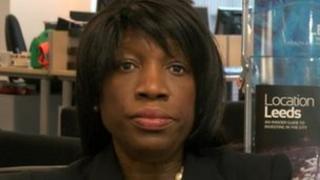 Six former members of staff have submitted a formal grievance against a top Leeds chief executive, accusing her of bullying.
Lurene Joseph has been head of Leeds and Partners, a firm set up to bring investment to the city, since May 2012.
A statement of grievance accuses her of systematic and sustained bullying, victimisation and misuse of power.
The firm has not commented. Leeds City Council, its main funder, confirmed the grievance had been submitted.
'Leap of faith'
The grievance was formally submitted by six former members of staff at 18:25 BST.
One of them, who asked not to be identified, told BBC Look North that submitting the complaint was a "huge leap of faith".
They said: "I don't feel better. It's hard still, we still don't have any kind of assurances that they will address the situation."
Supportive statements have been written by another nine former employees.
Leeds and Partners's annual stakeholder meeting is due to be held on Thursday.
No-one from the company has been available for comment.
A Leeds City Council spokeswoman said: "Any grievance submitted is dealt with through the proper procedures and we don't discuss individual cases."