Koyo Bearings jobs in Barnsley under threat, Unite says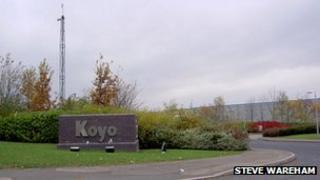 About 150 "highly skilled" jobs could go at a South Yorkshire bearing plant if production is moved to Romania, a union has claimed.
Unite said Koyo Bearings in Barnsley planned to transfer the work making bearings for the car industry.
Richard Bedford, of Unite, said: "This is terrible news for the workers, their families and South Yorkshire."
The firm employs about 360 workers at the site, said the union. No-one from the company was available for comment.
'Fight very hard'
Mr Bedford, Unite regional officer, said the news had been broken in an announcement to the union's shop stewards on Wednesday.
He said a meeting was planned in Barnsley with the firm's management on 10 October.
Unite said work could be transferred to one of the firm's plants in Romania following pressure from car-makers who are demanding cheaper bearings for their vehicles.
Mr Bedford said the union would "fight very hard" to keep as many jobs in Barnsley as possible.
The union said the jobs could be moved by December 2014.