Hamzah Khan death: Amanda Hutton 'drank as son wasted away'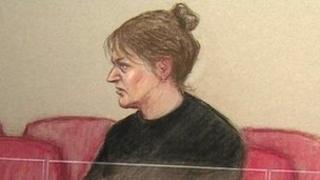 A mother accused of the manslaughter of her son drank vodka as he "wasted away", a court has heard.
Four-year-old Hamzah Khan's mummified remains were found at his Bradford home two years after his death.
Amanda Hutton, 43, denies manslaughter but admits child neglect and preventing the lawful burial of a body.
Prosecutor Paul Greaney QC told Bradford Crown Court the cause of Hamzah's death in 2009 was "blindingly obvious" - he had starved.
Mr Greaney said Ms Hutton had breached the fundamental duty of care a parent has for a child.
'Harden your heart'
He said: "As the child wasted away, [Miss Hutton)] did nothing but sit in her bedroom and drink vodka. It was malnourishment and she caused it," he said.
"Drink was more important to her than her child - a terrible thing to say about a mother, but it's the truth."
Stephen Meadowcroft QC, defending, told the jury of the "tremendous media coverage" the case had received.
He said: "Go into any bar, any club, and talk to anyone and ask them if they know about this case. They all do.
"If you want to know what they say, you don't have to ask them, I can tell you. They will have no doubt she is guilty and the trial is a waste of time."
He stressed to the jurors they had heard all the evidence and it was they that must decide the truth.
He said: "This evil woman starved a small child to death in appalling squalor. That's the feel. But when you look at the evidence, is that true?
"Amanda Hutton would not get any sympathy from anybody in the outside world, would she - not one person?"
He said: "If the truth is that she is not responsible for the death, for her now to be convicted of manslaughter, after everything that she's been through, would be a terrible injustice, would it not?"
In his comments to the jury, the Recorder of Bradford, Roger Thomas QC, said: "You wouldn't be human if you haven't had some reaction emotionally to the facts of this pretty dreadful case.
"But you've got to harden your heart here and look at it calmly and coolly."