Letter warned of Bridgewater Place wind effect fears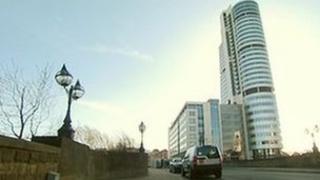 One of Leeds's leading executives warned high winds could kill someone at skyscraper Bridgewater Place - three years before a man lost his life there.
The prophecy was made in 2008 by Tom Riordan, who went on to become Leeds City Council's chief executive.
In March 2011, Dr Edward Slaney was crushed by a lorry as high winds blew around the 32-storey tower.
Leeds City Council said it was taking a "firm lead" in finding a solution to high winds around the building.
The building's owners, CPPI Bridgewater Place, were unavailable for comment at the time of publication.
'Near misses'
The existence of a letter from Mr Riordan that included the warning emerged when BBC Radio Leeds made a Freedom of Information request to the city council for documents relating to Bridgewater Place.
In the letter sent to then Leeds council chief executive Paul Rogerson, Mr Riordan, who was leading the now-defunct development agency Yorkshire Forward, told of his concerns at a number of "near misses," in which some of his employees had nearly been blown into the road.
He wrote: "If something is not done we will almost certainly experience a situation where there is a further serious injury and possibly a fatality."
In March 2011, Dr Slaney was crushed by a lorry in the high winds and died of his wounds. Another pedestrian survived but suffered injuries her lawyer has described as "life changing".
In February of this year, Leeds council said work to deal with high winds at Bridgewater Place was "urgent."
A solution to the air turbulence around the building was sought and in March, a council report revealed another 25 "incidents", including people suffering serious injuries, had been caused by winds at the site.
After approving £245,000 of funding to design a solution in February, the council said it had a "moral duty" to prevent another incident.
A potential solution was due to be made public later but the city council then said further planning was needed.
Mr Riordan told the BBC that, since he joined the council in 2010, he has insisted on a solution to the wind problems to protect road users and pedestrians near Bridgewater Place.
He said: "We are determined that any compromise fix which falls short of that just isn't acceptable, but unfortunately a more complex and effective solution has taken time to be identified."
A Leeds council spokeswoman stressed the building was the responsibility of its owners - but said the authority had taken a "firm lead" in the search for a solution to the wind problems.
The spokeswoman said the delay to the wind safety work was because of the council's insistence on a scheme that covered the roads and pavements.
"More details are expected to be announced by the owners via an expected planning permission in the coming months," the spokeswoman added.