Thorpe Park expansion plan approved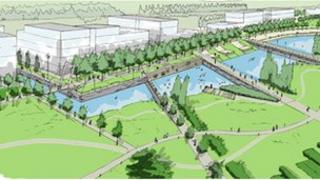 Plans for large-scale development and dual carriageway at an out-of-town business park in east Leeds have been approved by councillors.
The scheme will include hotels, offices, a gym and a supermarket at Thorpe Park between Colton and Garforth close to junction 46 of the M1.
A new road linking the 1.5m sqft development will run from Manston Lane to Thorpe Park and the M1.
The scheme must now be approved by the government before it can go ahead.
Planning documents considered by councillors included part of the link road as a dual carriageway.
Leeds City Council said the development would create jobs "as part of the wider East Leeds Extension".
A new section of parkland is also included in the scheme.
Councillor Peter Gruen, responsible for neighbourhoods, planning and support services in the city, said it would be a "fantastic boost in terms of jobs, the economy and regeneration" for east Leeds and beyond.
The application is to be referred to government minister Eric Pickles at the Department of Communities and Local Government as a departure from the city's statutory development plan.