West Yorkshire motorway upgrade completed after two years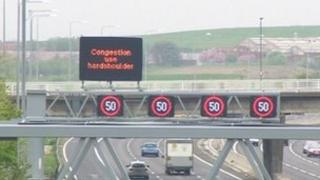 Work has ended on a £133m upgrade of a section of the M62 in West Yorkshire to turn it into a "managed motorway".
During busy periods drivers will be allowed to use the hard shoulder as an extra lane.
The upgrade covers 15.5 miles (25km) of the M62 between junctions 25 at Brighouse and junction 30 at Rothwell.
The Highways Agency said the work, which started in October 2011, had come in a month under schedule and £17m under budget.
Roads minister Stephen Hammond said: "I am delighted that road users in West Yorkshire and beyond are able to benefit from the improvements earlier than planned, and at a lower cost to the taxpayer than originally forecast.
"This is the first motorway of its kind in the North of England, and reducing congestion on this key route will deliver significant economic benefits."
West Yorkshire Police recently warned motorists of the dangers of ignoring road signs on stretches of managed motorways.
Insp Dave Peach said: "Red Xs will be used when we do not want people on the hard shoulder or indeed other running lanes.
"The consequences of not complying with [signs] could be catastrophic."