Hamzah Khan death: Nappy complaint led to body discovery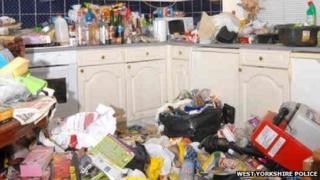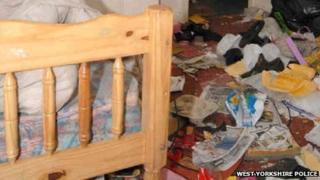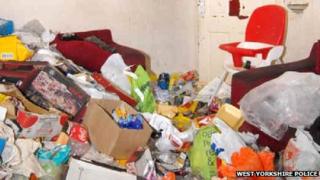 A complaint about soiled nappies and an inexperienced police community support officer's "tenacious approach" to dealing with the issue led to the discovery of a young boy's mummified body.
Jodie Dunsmore had been a police community support officer for just two days when she called at a house in Bradford to deal with a complaint about soiled nappies being thrown in a neighbour's garden.
She soon realised something was seriously wrong inside the home.
After receiving no reply when knocking at the door several times, she became suspicious when she noticed large quantities of flies on the window ledge and a vile smell coming through the letter box.
Talks with social services which revealed there were six children living at the house left her concerned.
The officer, who is now a police constable, eventually saw their mother Amanda Hutton after threatening to kick in the door, despite having no such legal power.
Hutton's unkempt appearance and refusal to let PC Dunsmore see her youngest son Hamzah, who the officer knew had not been attending school, was the final straw. She had not got to the end of the garden path before she had called social services.
The boy's body was found by police officers hours later and Hutton, a mother-of-eight, was arrested.
'Just awful'
Hamzah Khan had died in December 2009, but it was almost two years later when officers made the grim discovery of his tiny body lying in his cot.
The boy starved to death, and although he was four years old he was wearing a baby grow made for a six to nine-month-old infant.
The discovery of his body sparked a "harrowing" police investigation that has led to Hutton being convicted of manslaughter by gross negligence.
PC Dunsmore spoke of her shock at learning about Hamzah's death.
She said: "When [a police officer told me] that [Hutton had] been arrested for child neglect I was like 'yes thankfully the children are going to be all right'.
"I remember driving out of the gates feeling like I'd done a good job that day, I may have changed some children's lives for the better.
"And then I'd been home not even an hour when I got a phone call to say 'you need to come back into work because there's been a dead child's body found in that house' and I asked them to repeat it because I just couldn't comprehend what had been said.
"I couldn't work out how there would be a dead child in the house and no-one knew about it and every possible idea about how that could happen was going through my mind but never did I think it would be this.
"It's just awful."
Mother's instinct
Hutton's trial heard PC Dunsmore's "conscientious and tenacious approach to the situation would have done a seasoned detective credit".
She said she found the praise she had received "slightly embarrassing".
"I was just doing my job I wasn't doing anything special," she said.
The officer said her motherly instinct that the children could be in danger stopped her walking away from the case in the face of heavy obstruction from Hutton.
"I think it's having kids, something just did not sit right deep in my gut. It just didn't feel right.
"I joined the job to look after people and people's welfare and I just couldn't leave it."
Officers who found Hamzah's body were also faced with an overwhelming smell coming from ankle-deep rubbish in the house, including vodka bottles and rotting food.
Hutton's neighbours had lived with the smell for months.
One, who asked to be named only as Mrs Khan, said she stopped putting her washing outside because it would end up covered in flies.
She said: "A lot of rubbish came out of that house. There were skips outside being filled with rubbish, pizza boxes and vodka bottles and nappies and all sorts.
"That there was a child dead in that house for two years, it's very upsetting because the children had to live with that.
"I can't imagine what they went through, living like that for two years, knowing their brother was dead but they still had to carry on as normal."
Another neighbour, Mumtaz Mazar, said Hutton was "always aggressive and moody".
He said: "All the kids were terrified of the mother, the way her language was and her attitude because she were always drunk basically.
"She never used to let them play out."
Case 'heartbreaking'
Mr Mazar said when he saw Hamzah in the window sometimes he thought the child looked pale and weak.
"If I knew the poor lad was starving I would have gone and called his father and said 'look this is what's happening', or told the police or social services, something like that," he said.
"I didn't know what was going on in that house."
The detective in charge of the investigation said she had not seen such "appalling" conditions in her 28 years' service.
Det Supt Lisa Griffin said: "It's been a very harrowing investigation. officers and the public alike have found it emotionally very difficult.
"It's heartbreaking and nothing short of that."