Hamzah Khan death: Mother says son 'starved himself'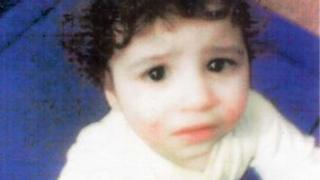 A mother accused of killing her four-year-old son denied starving him because "he would starve himself", a court has heard.
Amanda Hutton said she panicked when Hamzah Khan died in 2009.
In an interview played to Bradford Crown Court, she said she had failed to get him medical help because she had a fear of doctors and hospitals.
Hamzah's remains were not found until 2011. Ms Hutton, 43, has denied manslaughter.
Earlier the court heard evidence from Det Con Richard Dove, who discovered Hamzah's mummified body in a cot in his mother's bedroom and said that at first he thought the child was not real.
He told the court that when he arrived at Ms Hutton's house it was a tip, with a strong smell "like rubbish, mixed with sweat, mixed with urine" and he could not get into the sitting room because rubbish was blocking the door.
'A difficult one'
Prosecutors claim Hamzah starved to death due to his mother's neglect of him.
But in Ms Hutton's police interviews with detectives, she claimed Hamzah had problems from birth and would bang his head against the wall.
She described the problems she had getting the youngster to eat and said he lived on a diet of bananas and milk for the last few months of his life.
"He wasn't being starved, he would starve himself," she said, adding: "He would not eat. He would refuse point blank to eat."
She said: "I thought I could handle it, I could get to the top of it and it would be ok."
Asked why she did not take the child to see a doctor, she said: "I don't know, I'm not a doctors person. I do have a fear of doctors and hospitals."
The court heard that in December 2009 Hamzah's condition worsened. His mother said he was still wearing nappies, could not speak and would communicate in what she described as "babble".
'Completely numb'
Ms Hutton said: "He'd set off screaming and there was nothing you could do to stop him."
Jurors heard that four weeks before he died he lost the power to walk and would lie in his cot.
She recalled that the night before his death, her son said to her "I love you mum. Are you all right mum?" as she stroked his head.
The day her son died, Ms Hutton received a phone call from her eldest son Tariq Khan saying Hamzah was seriously ill, the court heard.
She said when she arrived home from shopping Tariq said "look at his eyes" and as she tried to resuscitate him she realised he had died.
"It's like dizziness closing in and out," she told detectives.
"I felt completely numb and as each day passed I found it more and more difficult."
Police asked Ms Hutton why she did not ring for an ambulance. She said: "Because he'd gone I didn't know what to say or do."
She told police she stopped Tariq from ringing an ambulance saying she needed time to think. She later told people Hamzah had gone to live with relatives in Portsmouth.
The court heard Ms Hutton told officers she ordered a takeaway after her son died. She said she continued claiming child benefits in Hamzah's name and began drinking a litre of vodka a day.
'Hand shaking'
Det Con Dove told the court he saw vodka bottles in the kitchen and then went upstairs, where he could see a pile of soiled nappies which had "gone mouldy".
On entering Ms Hutton's bedroom, the officer saw two cots and initially did not see Hamzah.
He told jurors he was looking for evidence of child neglect and cruelty.
Mr Dove said: "The bedding was all soaked. The place was in such a state. I've never seen anything like it."
He then briefly left the house, before going back in to begin a search of the cots.
The detective told jurors he had to remove clothing, shoes and layers of blankets before finding Hamzah's body.
He said: "I was shocked, I thought is that real? I didn't expect to find a child."
Hamzah's body was "mummified" and there were no signs of life, he explained.
Mr Dove said: "My right hand starting shaking, wobbling, I had no control of it, so I grabbed it to calm myself down."
The detective told other officers what he had found.
The prosecution has told the court Hamzah had starved to death as a result of his mother's neglect.
She denies one charge of manslaughter by gross negligence and claims her child died from natural causes.
The case continues.