Hamzah Khan's mummified body found after 'vile smell' noticed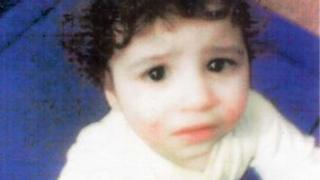 The mummified body of a four-year-old boy was found in his mother's bedroom after police noticed a "vile smell of filth" at the house, a court has heard.
PC Jodie Dunsmore said she also saw dead flies on a window ledge after calling at Amanda Hutton's house in Bradford in September 2011.
She told Bradford Crown Court Ms Hutton refused to answer the door for days but eventually did with a "look of fear".
Social services were called and Hamzah Khan's body was found later that day.
Ms Hutton, 43, denies manslaughter.
Matted hair
PC Dunsmore, who was a community support officer at the time, said she knew "something was definitely not right" when she called at the house to investigate a neighbour's complaint about rubbish.
She told the jury she knocked on the door again and again, over a number of days, but got no reply.
PC Dunsmore said she became more suspicious when she noticed a large number of flies on the window ledge and a terrible smell coming through the letter box.
She said after at least five visits she and a colleague threatened to kick in the door, despite having no such legal power as community support officers.
PC Dunsmore said at that point Hutton opened the door and looked "dreadful".
"Her hair was all matted and she was looking very unkempt," the officer said.
"She had a woollen jumper on and it appeared flies were coming off her jumper.
"She looked like she was going to throw up. She had a look of fear on her face."
PC Dunsmore said Hutton would not let her in.
"There was a vile smell of filth radiating from the door.
"I'd not even got to the end of the path before I'd rung social services."
Rotting food
The jury heard Hamzah was found in a cot in his mother's bedroom later that day, when police officers arrived.
One of those officers, PC Jane Lax, said she was "overcome by emotion" at some of the things she saw in the four-bed terraced house.
She described how she attempted to get to the cellar through the kitchen but was affected by the smell coming from ankle-deep rubbish, including rotting food and vodka bottles.
"I can recall being able to taste the smell in the house," she told the court.
"At the kitchen door the smell became overwhelming.
"As I got to the top of the cellar stairs I began to retch. I had to leave the property at that time."
PC Lax said she had been sitting in a police car with Ms Hutton when she received a call saying her colleague had found Hamzah's body.
The officer said Ms Hutton closed her eyes and put her head down as she overheard the officers' conversation.
Prosecutors claim Hamzah died in December 2009 because he was starved to death. Ms Hutton has claimed he died of natural causes.
The trial continues.