Bradford swimming pools closure plan put on hold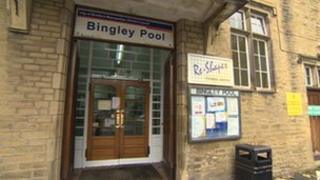 A plan to replace four swimming pools in Bradford with new facilities has been put on hold following public protests.
Last week, Bradford Council's executive approved the closure of pools at Bingley, Bowling, Queensbury and Odsal.
The council said the closures would cut operating and maintenance costs and it planned to replace them with four new pools at a cost of £17m.
A councillor has now called the decision in for further scrutiny.
Andrew Mallinson, who is the Conservative chair of the regeneration and economy scrutiny committee, said he was concerned that the council had approved the closure report "without really analysing the whole situation".
He said: "Using my powers I have asked for that report to come back to my committee so that another group of councillors can look at it and scrutinise the whole process.
"How have they come to this decision?
'High quality'
"Have they taken into consideration things like the social impact and the economic impact on families having to travel to different area where they are considering putting new pools?"
Labour councillor Andrew Thornton, who is a member of the council's executive committee, said: "We set out to develop plans for the future of sports and leisure facilities with the aim of providing high quality, affordable facilities in the right locations that have a sustainable long term future.
"The report recommends replacing outdated pools that have high running costs and require a great deal of maintenance with modern, well designed facilities that people will enjoy using.
"The proposals are also forecast to save the council £1.7m a year in running costs."
A group protesting against the closure of the pool in Bingley said it had gathered more than 3,000 signatures on a petition.
Campaigner Rebecca Ashton from the Bingley Women's Institute said "It's great that somebody is listening to what the community is saying."
She added: "I think is great our campaign raised the profile and it really showed the strength of public opinion."