West Yorkshire Hajj pilgrims warned of travel scams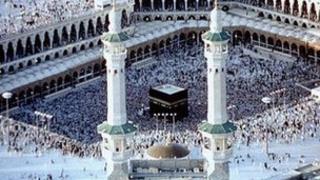 Muslim pilgrims travelling to Hajj from West Yorkshire have been warned by trading standards officers and an MP to check travel and accommodation deals.
The warning comes after travellers reported booking packages to go to Mecca only to find that "rogue agents" had fled with their cash.
Others had booked accommodation only to arrive in Saudi Arabia and find they had to share rooms with strangers.
Pilgrims are expected to travel to Hajj between 13 and 18 October 2013.
Bradford East MP, Liberal Democrat David Ward, said he was warning travellers after receiving complaints about unregistered "Hajj agents" who had been dishonest.
'Check for licence'
He said: "Whenever the Hajj season approaches I am always contacted by constituents who have had their money taken by people claiming to be agents or have not been given the pilgrimage package they were promised.
"It seems that everyone knows someone who has been the victim of these rogue agents.
"I would urge anyone that is going on Hajj to get everything confirmed in writing and contact me or the West Yorkshire Trading Standards so that we can stamp out this issue."
Councillor Val Slater, chairwoman of the West Yorkshire Trading Standards Committee, said they had received a number of complaints.
Practical tour arrangements (flights and accommodation) of a Hajj pilgrimage are controlled under the Package Travel, Holidays and Tours Regulations 1992.
"Under these regulations, customers must be given the correct information in writing about the flights, accommodation, transfers, details of who is included in the booking and the details of the business organising the package," Ms Slater said.
"With this information people can check that the package they will receive will match the one they have been offered.
"They can also check that the person organising the package has a licence from the Saudi Government to bring pilgrims on the Hajj."
Hajj is an Islamic pilgrimage to Mecca. It is one of the five pillars of Islam and a religious duty that must be carried out by every able-bodied Muslim who can afford to do so at least once in his or her lifetime.