Bradford Pumpkin cafe robber Joaquim Silva jailed for eight years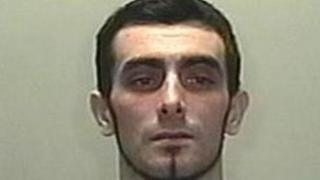 A masked robber who threatened a coffee shop worker with scissors and locked her in a store cupboard has been jailed for eight years and faces deportation.
Joaquim Silva, 34, of Recreation Street, Bradford, stole the keys to the coffee shop and lay in wait for staff.
He attacked a 23-year-old woman when she arrived at the Pumpkin Coffee Shop at about 05:00, and took £300.
Portuguese national Silva was found guilty of robbery and false imprisonment at Bradford Crown Court.
He also pleaded guilty to supplying heroin and crack cocaine.
British Transport Police detectives arrested Silva shortly after the offences when he was tracked by CCTV following the attack at Bradford's Interchange in April this year.
He had stolen the keys to the shop from a former partner who had previously managed the shop.
Judge David Hatton QC told Silva his victim had been traumatised: "You terrified her and you took hold of her.
"You were disguised and you threatened her.
"You held scissors to her throat and demanded money and you verbally abused her.
"She may never forget that terrifying ordeal."
Judge Hatton told Silva he would be deported when he had completed his sentence.