Bishop of Wakefield gives cash away to mark 10th anniversary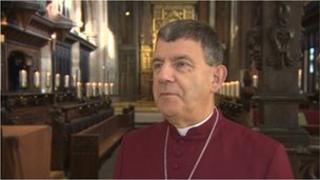 An Anglican bishop is marking the 10th anniversary of his consecration with a cash gift to churches in his diocese.
The Bishop of Wakefield, the Right Reverend Stephen Platten, said churches should use the £100 to start community projects.
The 200 parishes in the diocese would be asked to submit project ideas before Christmas.
Bishop Platten said he was inspired by the vicar who gave parishioners money to invest to help raise church funds.
The Rev Richard Steel distributed £550 last November in the hope of raising money for repairs at St John's Church in Kirkheaton, near Huddersfield.
Members of the church used the money to raise around £10,000.
Bishop Platten said he expected around £20,000 would be given to churches and parishes in the diocese, with the money coming from the Bishop's Development Fund.
He said: "I want to encourage each church to look outward into their communities and use this money to provide something that will touch and connect with those around them for some time to come."