No injuries on baby's body found on Shipley waste tip, say police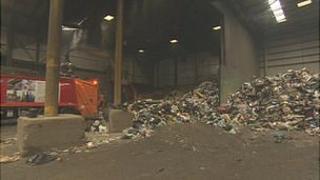 Police investigating the discovery of a dead baby boy on a waste tip in Shipley have said the body showed no injuries.
Officers said a post-mortem examination had failed to establish a cause of death and it was not possible to say whether the baby was born alive.
The newborn child was found by staff at the Associated Waste Management site on Valley Road on Wednesday.
Staff there are to be offered counselling after the "distressing" incident, the site's manager has said.
'Heart defect'
Police said they had concerns for the health of the mother and asked her to contact officers.
Det Supt Mark Ridley, from West Yorkshire Police's Homicide and Major Enquiry Team, said the body was that of a boy of 34 to 36 weeks' gestation, who was likely to have died in the past two weeks.
"Although we have not yet been able to confirm an exact cause of death, or whether or not the child was born alive, we have been able to establish that he did have a congenital heart defect and there are no signs that he suffered any injuries before he died," he said.
Police said inquiries had shown the waste in which the baby boy was found had come from premises within West Yorkshire.
Officers were working closely with local authorities to identify the streets where the rubbish came from, police said.
Helping police
The dead baby is the second found on the same site in recent years.
In 2011, the body of a newborn girl was discovered among waste.
Tim Shapcott, from Associated Waste Management, said some of the staff at the site who found the baby's body in 2011 were involved in Wednesday's discovery.
"We don't have a high turnover of staff and some of those same people were involved there, unfortunately," he said.
The company was helping police in trying to locate where the latest body could have come from, said Mr Shapcott.
"What we are trying to do is hone down the hours this material may have come into the actual facility and then identify maybe the approximate origin of the material."