'Mummified' Hamzah Khan 'was stick thin'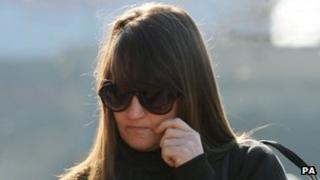 A four-year-old boy who allegedly starved to death was "stick thin" and "didn't get fed much", a jury heard.
Hamzah Khan's mother Amanda Hutton, 43, of Bradford, is on trial at the city's crown court accused of his manslaughter.
The court has previously heard Hamzah's body was found in a "mummified" state in Ms Hutton's bedroom almost two years after his death.
A witness, who cannot be named, said Hamzah "looked crusty and pale".
Ms Hutton denies killing her son.
The witness described how she saw Hamzah shortly before he died on 15 December 2009.
She told the court the boy looked "absolutely appalling".
"He looked all crusty and pale," she said.
"He looked really skinny, stick thin. He didn't get fed much."
'Bin bags'
The witness said Hamzah only got one meal a day and had difficulty walking.
The jury heard how Hamza's body was found by police in September 2011 in a cot in his mother's bedroom in their Bradford home.
He had died 21 months before, Bradford Crown Court was told.
Prosecutors argue the boy was severely malnourished and had starved to death.
The anonymous witness said Ms Hutton's house was filled with "lots of bin bags", "mould and wee and cat food".
Asked what was in the bin bags, the witness said: "Empty bottles, crisp packets, snotty tissues and lots and lots of cans."
The witness went on to describe the bathroom in the terraced house.
She said the bath was full of cat faeces and also had vomit in it, which had gone mouldy.
The witness said Ms Hutton "drank more vodka than water" and "was always being sick".
'Less and less teeth'
She added that the boy's mother's alcohol consumption meant she could not walk properly
The witness said Ms Hutton vomited regularly and could not walk properly because of her alcohol consumption.
"She [Ms Hutton] had a lot of alcohol and she had three bottles a day," the witness said.
"And she smoked a lot. It was vodka, Smirnoff and something."
Ms Hutton's brother Michael told the court his sister had been a cannabis user since the late-1980s but that her heavy drinking started much later.
Mr Hutton said his sister was "knocked about" by her husband, Aftab Khan.
He said he would visit her and find her with "less and less teeth".
Stephen Meadowcroft QC, defending, told the court Ms Hutton's house in 2011 was "an absolute pig-sty, filled with rubbish - disgusting, the state of it".
Mr Meadowcroft asked Mr Hutton if he was ever turned away from that house in 2011 and he agreed that he was.
The barrister asked Mr Hutton about the state of house when he visited in 2009.
He replied: "Perfectly decent, ordinary."
Ms Hutton's other brother Christopher said in a statement, which was read out to the court, that his sister had been a heavy cannabis user for as long as he could remember.
The case continues