Minsthorpe Swimming Pool closure rethink urged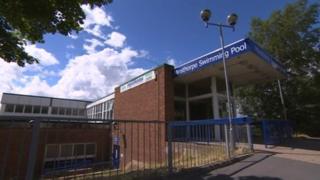 Pupils are being denied a "basic right" by the closure of a West Yorkshire swimming pool, a head teacher has said.
Minsthorpe Pool near Wakefield was closed for repairs in April, but in July senior councillors decided to close it permanently as it would cost more than £1.2m to fix it.
Upton Primary School head teacher Paul Franklin says pupils can no longer have weekly swimming lessons as a result.
The closure will be discussed at a full council meeting later.
'Major deficiency'
The six-lane pool was built in 1969 and serves about 40,000 people living in the south east of the Wakefield district.
A report put to the council conceded it was a "critical" facility the closure of which would create a "major deficiency... for swimming provision in that area".
But it said the Labour-run authority's budget could not cover the costs of repairing a major crack in the pool's tank, replacing the filtration system and generally upgrading the building.
A Department for Education spokesperson said: "Under our new PE curriculum, primary school pupils will still have to learn to swim at least 25m using a range of strokes.
"We are giving £150m a year directly to primary schools to spend on improving PE and sport."
But Mr Franklin said the money was useless if there were no facilities to use it in.
He said: "We are in an extraordinary situation where we're receiving funding to raise the profile of PE, while at the same time the council are losing theirs to provide a basic right for our children."
Labour councillor Steve Tulley has put forward a motion calling for a full council debate on the pool's closure.