Florida tourist murderer has life sentence reduced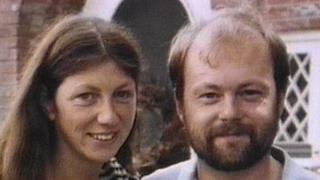 A man who murdered a British tourist in Florida 20 years ago has had his life sentence reduced after it was ruled unconstitutional.
Gary Colley, from West Yorkshire, was shot dead in a robbery near Tallahassee on 14 September 1993, while his partner Margaret Jagger survived.
Aundra Akins, who was 14 at the time, was jailed for 27 years for murder in a plea deal, and given a life sentence for the attempted murder of Ms Jagger.
That has now been reduced to 40 years.
'Holiday from hell'
Ms Jagger and Mr Colley were shot by Akins as they rested in a lay-by in their hire car while on holiday.
Akins had gone out with three others looking for people to rob when they found the tourists.
He pleaded guilty to the second-degree murder of Mr Colley and was jailed for 27 years in 1997, which was the maximum sentence he could face at the time as he was a juvenile.
But he was given life for attempted murder after a trial.
That was overturned in November because of a Supreme Court Ruling that a life in prison sentence for a 14-year-old child was unconstitutional.
Ms Jagger spoke at the hearing at Jefferson County Court on Friday, saying Akins had turned it into the "holiday from hell".
'Turned a corner'
Akins told the court: "I'm not the kid I was once before, I'm a grown man, and I want to make a difference and I hope you can find it in your heart to forgive me."
A court official said the new sentence would run consecutively to his sentence for murder, but he could be released in about 12 years for good behaviour.
After Friday's hearing, Reuters reported that Ms Jagger said: "I personally think it's quite hard but, hopefully, Aundra has turned a corner and will be able to make some life, and will be able to come out in about 12 years with good behaviour.
"Hopefully then he can keep out of trouble in prison and have another life ahead of him, after prison."