On-the-run killer arsonist Shakeil Shazad found 'confused'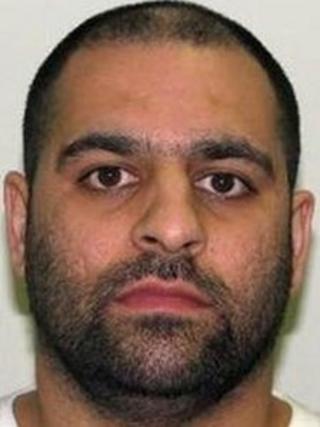 A convicted multiple killer who absconded from jail has been found, police said.
Shakeil Shazad, 33, fled jail on Wednesday while serving an 18-year term for causing the deaths of three generations of a West Yorkshire family.
He was convicted of eight counts of manslaughter at Leeds Crown Court after a house fire in Birkby, West Yorkshire, in 2002.
Shazad was found "confused" on a road in Staffordshire.
He had been on a work licence from Sudbury jail in Derbyshire when he failed to return to the prison.
Hospital
A West Yorkshire Police spokesman said Shazad was found "in a confused state" on a road between Lichfield and Rugeley by police officers and later admitted to a hospital in Staffordshire.
The spokesman said: "At the time he was found by police Shazad was unable to provide any personal details, but his identity was confirmed through a finger print test.
"He is being guarded by West Yorkshire officers who have been working with colleagues in Derbyshire."
Senior Investigating Officer from West Yorkshire Police, Detective Superintendent Lisa Griffin, said: "We have now confirmed through finger print checks that a man taken to hospital is Shakeil Shazad and he remains under guard by West Yorkshire Police detectives.
"He will be now be fully assessed for his physical and mental health. Arrangements will also be made to return him to custody in due course."