Inmate admits wounding child killer Mark Bridger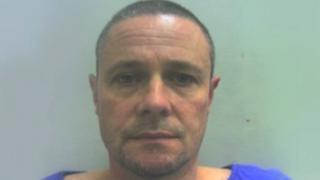 A prisoner serving a life sentence has admitted attacking child killer Mark Bridger in a high-security jail.
Juvinai Ferreira, 22, pleaded guilty to wounding Bridger when he appeared at Leeds Crown Court via video-link.
Ferreira attacked the 47-year-old in Wakefield Prison after Bridger was sentenced to life in jail for murdering April Jones, five, in Wales last year.
No details of the attack were given in court. Ferreira will next appear at the court for sentencing on 2 October.
At one point in the 20-minute hearing Ferreira, a convicted murderer, asked one of his guards: "I thought this was going to be quick?"
'Move on'
After Judge Christopher Batty told him the case was going to be adjourned, Ferreira said to him: "Can you just not sentence me? I can't keep coming back.
"Just give me anything and move on."
Judge Batty told him he needed a pre-sentence report to assess his level of dangerousness and decide whether a second life term was appropriate.
Ferreira was found guilty at Norwich Crown Court in 2009 of murdering Elaine Walpole in Dereham, Norfolk, in April 2008.
He was given a life sentence and told he must serve at least 22 years before being considered for parole.
April Jones was abducted by Bridger while playing near her home in Machynlleth, Powys, last October, sparking the biggest missing person search in UK police history.
Bridger was given a whole-life tariff by a judge in May at Mold Crown Court. The five-year-old's body has never been found.