Former Yorkshire Post headquarters to be demolished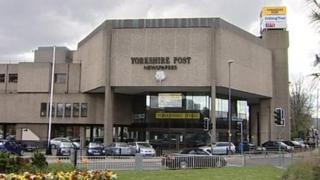 The landmark Yorkshire Post and Yorkshire Evening Post building in Leeds is to be demolished.
The offices on Wellington Street were the home of the two newspapers for 42 years, until they were put up for sale and staff were moved out last year.
The concrete tower displaying the time and temperature is a familiar sight for commuters driving into Leeds on the inner ring road.
Johnston Press has submitted a demolition order to Leeds City Council.
A decision is expected to be made next month.
A report to the council said the demolition was "a necessary first stage in preparing the site for redevelopment".
It said while the building was of some local interest, "the wider architectural and historic interest is limited".
English Heritage said in February the building would not be listed.