Wakefield Council approves strong alcohol ban trial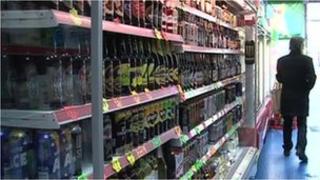 A scheme to ban the sale of super strength alcohol in parts of Wakefield has been given the go-ahead.
Wakefield Council wants shops in Normanton, Airedale and Ferry Fryston to stop selling beer, cider and lager with an alcohol volume above 6.5%.
The council said hospital admissions for excessive drinking among teenagers in Wakefield were some of the highest in the country.
The scheme was approved at a council licensing meeting earlier.
Normanton, Airedale and Ferry Fryston have been picked out because they have some of the highest levels of harmful drinking and anti-social behaviour across the district, the council said.
Success elsewhere
A report put to the authority said: "The excessive use of alcohol is an important public health problem in Wakefield, with almost a quarter of adults consuming at least twice the daily recommended amount in a single session.
"The harm associated with excessive drinking is particularly apparent in young people, with alcohol specific hospital admissions in under 18s amongst the highest in the country."
The authority said it would work with West Yorkshire Police and shopkeepers to introduce the voluntary agreement, which would be trialled for 12 months and then reviewed.
It said similar measures elsewhere in the country had been successful in reducing alcohol-related anti-social behaviour.
The scheme is expected to be introduced in November.