'No job losses' at blaze-hit Airedale Air Conditioning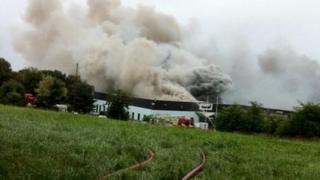 There will be no job losses at a blaze-hit air conditioning unit factory in Leeds despite the fire, the company has said.
The fire at Airedale International Air Conditioning, Leeds Road, Rawdon on Friday was tackled by 100 firefighters.
West Yorkshire Fire Service said it was a "very significant" blaze.
Clive Parkman of Airedale said: "We are doing everything in our power to return to normal operations as quickly as possible."
'Open for business'
Mr Parkman, the firm's managing director, said: "We are extremely proud of our very loyal and highly skilled workforce and I would like to reassure them that there will be no job losses as a result of the fire."
The fire was detected at about 02:40 BST on Friday and the site was evacuated of all personnel without injury. Due to the incident roads were closed, causing traffic disruption.
In a statement, Airedale said it was "extremely grateful" the fire service was able to save sizeable parts of the premises.
The firm is asking staff not to arrive at work on Monday unless contacted directly, but added it was still open for business.
The cause of the fire is still being investigated by West Yorkshire Fire Service.