Woodlesford flood scheme approved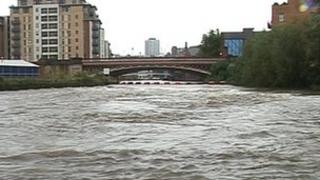 Flood defence measures in a village on the outskirts of Leeds have been approved as the first step in a project to prevent major flooding in the city.
A study has shown the £50m Leeds Flood Alleviation Scheme in the city centre could raise River Aire water levels in nearby Woodlesford.
Councillors have approved plans for low-level embankments in the village.
Work in Woodlesford will start next January with the main project starting in April and due to end in 2016.
The main city centre project includes the replacement of the fixed weirs at Crown Point and Knostrop with moveable ones.
Moveable weirs, which consist of a row of steel gate panels supported on their downstream side by inflatable air bladders, can be lowered as necessary in flood conditions.
A council report said the scheme was necessary to prevent potentially devastating floods in the city.
It states: "In 2000, the city centre was only centimetres away from flooding with further near misses in 2004, June 2007 and January 2008.
"It has been estimated by the Environment Agency that over 4,500 residential and commercial properties are at risk and approximately £400m of direct damage would be caused by a major flood from the River Aire in Leeds."
Councillor Richard Lewis said: "We are all very keen to see this vital project carried out to help protect Leeds city centre from the risk of flooding.
"These works in Woodlesford need to be carried out to make improvements as quickly as possible.
"This will begin the process to provide residents and businesses in that areas with a level of protection and reassurance they have never had before."